Great story on L-755 Sec/Treas Joe Foret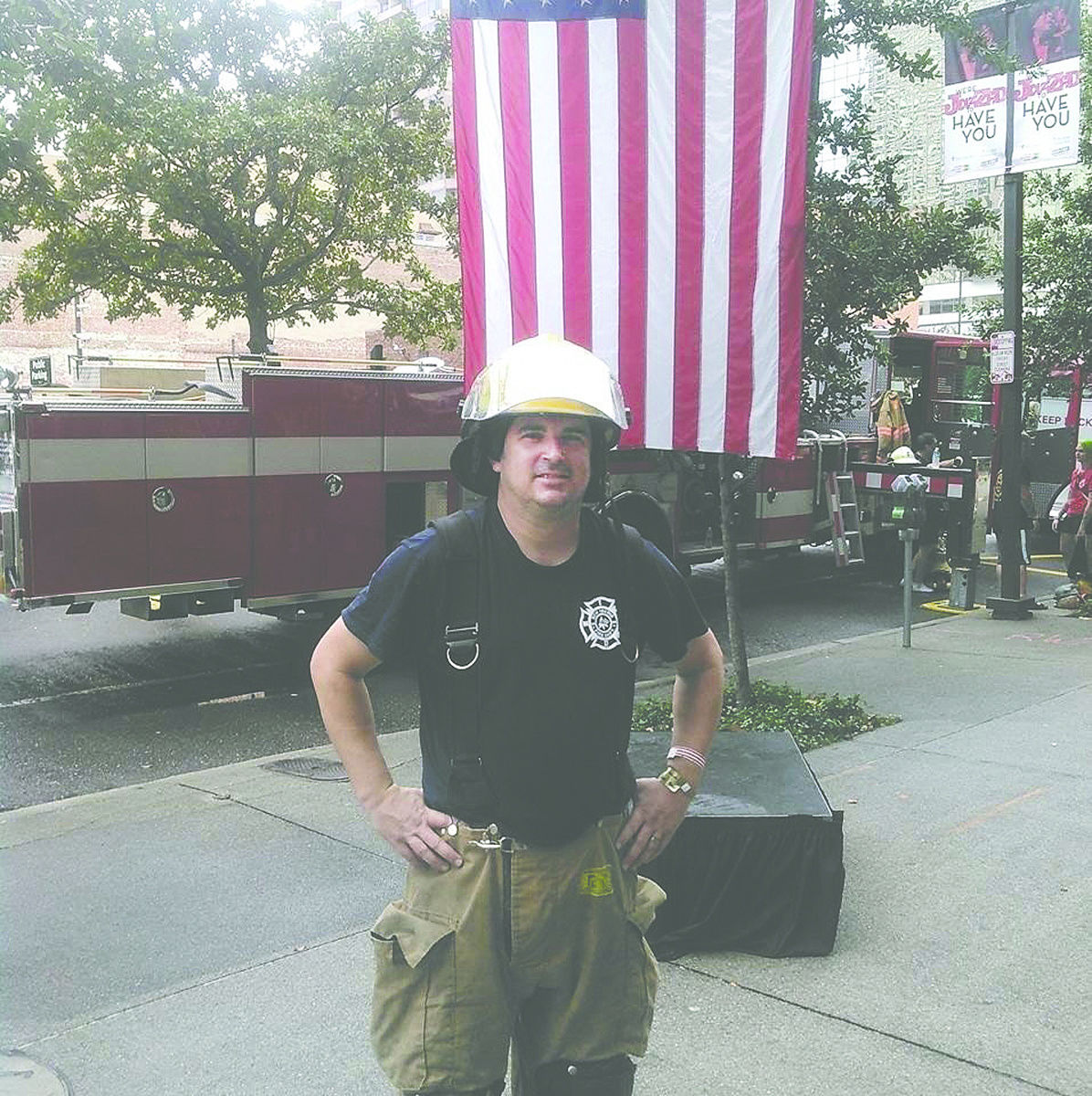 Camaraderie appealing
Foret enjoys career as a firefighter
Joe Foret poses at a 9/11 memorial stair climb in New Orleans. Foret is a New Iberia firefighter who organizes donation efforts from the NIFD to the community.
Joe Foret knew he was put on the earth for something, but didn't realize what it was until he became a New Iberia firefighter.
The 41-year-old New Iberia native and New Iberia Senior High graduate (Class of 1994) got into the profession a little later in life than most of his peers, but that hasn't stopped him from approaching every day with a sense of fun and enthusiasm.
After graduating from high school and attempting several different majors in college, Foret said he never found something that fit. Foret drifted in several different jobs, including bars, car dealerships and working in malls.
When he moved back to New Iberia with his wife Kim Foret after living for seven years in Houston, Foret decided to apply for the New Iberia Fire Department, where he was accepted, to his wife's surprise.
"I wanted to make sure I wasn't just doing a job," Foret said. "I wanted to make sure I was doing something my daughter could be proud of. I filled an application out and my wife was out of town working. I said 'Guess what, I'm a fireman,' and she said, 'What? I thought you were joking.'"
Foret's family also had a history of public service. His brother, Jake Foret, is the commanding officer of the USS Santa Fe, a Los Angeles class submarine for the U.S. Navy.
"I have a lot to be compared to, not that (my parents) would ever compare me," Foret said. "I guess I'm my own worst critic, and after all my dead end jobs it's good to finally be in a job where the community respects what you do and you try to do what you can for others."
After nearly 10 years in the NIFD, Foret recently was promoted to captain in the department.
Asked about what has defined his career so far as a firefighter, Foret referenced an injury he suffered early in his career that is still the talk of the department.
"I fell off the top of a fire truck, broke my arm and fractured my eye socket and had a concussion. I was in the hospital for a week," Foret said. "Firemen are a special breed. They joke about it almost every single day. I worry about when they stop joking about it because that means they found something else.
"I think that's defined my career as silly as it sounds because it changes your approach to little things like cleaning. You have to look at things differently, even little things like cleaning."
Foret also said he's enjoyed the sense of brotherhood the department has, a bond that also has been spread around to the community. Thanks to fundraisers by the New Iberia Firefighter's Association, the NIFD has provided a wide variety of charitable acts to people in the community.
NIFD Fire Chief Gordon Copell said that as secretary of the Firefighter's Association, Foret has been at the forefront of those efforts.
"He really does a lot. He's spearheaded most of those efforts," Copell said.
The donations have varied from a 16-year-old boy whose golf clubs were stolen last year to a young girl who's bike had to be cut open after she somehow got stuck in it. The NIFD purchased a set of golf clubs and new bicycle, respectively.
"I'm a secretary of the union so I write the checks and I'm keeper of the purse," Foret said. "I'm always looking for someone who always needs assistance. It's not about us, it's about sticking your neck out and helping someone."
As for long-term goals, Foret said he has no plans to leave the department any time soon.
"There's a lot of ways that I get to interact with people, from speaking at schools to driving the fire truck for the parade," Foret said. "A lot of people go to their job and they don't like what they do. If I won the lottery, I think I'd do it for free. That's a lucky thing ... not everybody gets that."